Villas for sale in Santa Clara Golf Marbella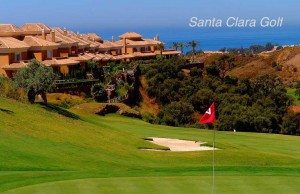 Villas for sale in Santa Clara Marbella
Houses at Santa Clara Golf complex
We can offer a complete portfolio of villas for sale in Santa Clara Marbella, set in private 360-acre estate and located in one of the most exclusive areas of Marbella on Spain´s fashionable Costa del Sol. Santa Clara is situated in the desirable area of Los Monteros, adjacent to the famous 5 stars Los Monteros Hotel and La Cabane beach club on one of the finest beaches of Marbella and has Puerto Banus, the playground to the rich and famous a mere 10 minutes drive away.
Well recognized by the 24h security each of its phases, which allows you to enjoy the peace and quiet of the area, as well as to travel with the peace of mind that everything is in good hands.
Close to many amenities of Marbella and ideal for the golfing enthusiast, Santa Clara is one of the finest Santa Clara Golf on the Costa del Sol. Each round will be an unforgettable experience and challenge players will want to repeat.
[property_searchform action="/property-search/"] [ps_field field="ref" label="Reference"][ps_multilocation label="location" levels=2][ps_field field="type" label="Property Type"][ps_field field="status" label="Sale or Rent"][ps_field type="select" field="bedrooms" data="1+,2+,3+,4+,5+,6+,7+,8+,9+,10+"] [ps_field type="select" field="bathrooms" data="1+,2+,3+,4+,5+,6+,7+,8+,9+,10+"][ps_field type="select" data="200000,300000,400000,500000,600000,700000,800000" data_status_sale="200000,300000,400000,500000,600000,700000,800000" data_status_longterm="750,1000,1250,1500,2000,2500" format="€%s" data_status_shortterm="750,1000,1250,1500,2000,2500" format="€%s" thousands="," field="price_min"] [ps_field type="select" data="200000,300000,400000,500000,600000,700000,800000" data_status_sale="200000,300000,400000,500000,600000,700000,800000" data_status_longterm="750,1000,1250,1500,2000,2500" format="€%s" data_status_shortterm="750,1000,1250,1500,2000,2500" format="€%s" thousands="," field="price_max"][ps_counter_submit label="Submit"]